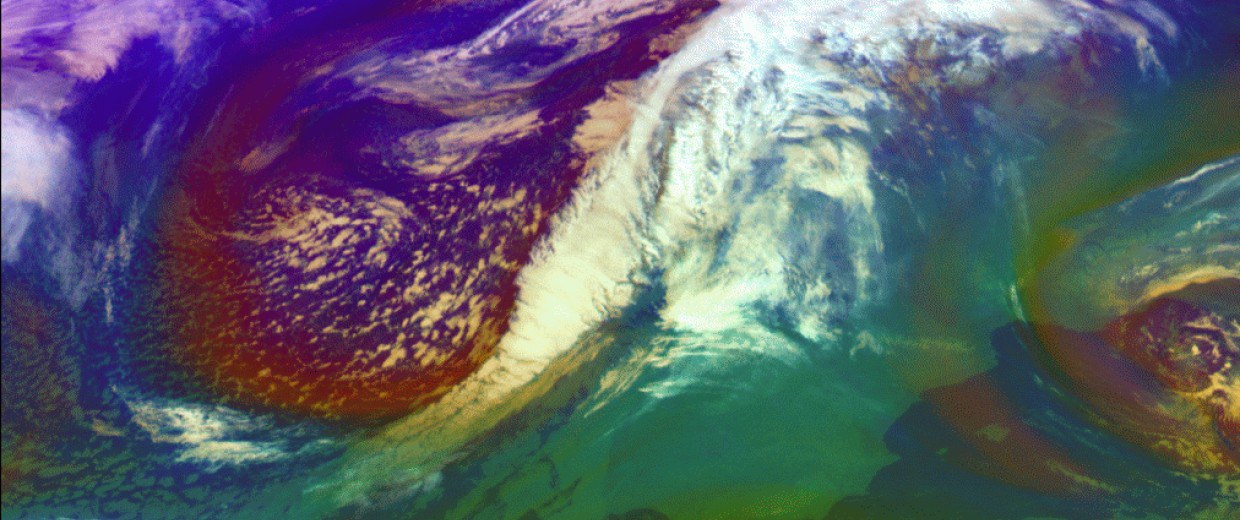 Atmospheric physics
Study of dynamical, radiative and microphysical processes in the Earth's Atmosphere, with application to meteorology, climatology, remote sensing and the environment.
The work done by the group of Atmospheric Physics attempts to further the understanding of fundamental issues related to the dynamics, radiative transfer and thermodynamics of the atmosphere. The ultimate goal is to improve our knowledge on key processes regulating the evolution of the terrestrial atmosphere, both in the short-term (meteorology) and long-term (climate). Of interest is the development of novel parameterizations (in the lower and higher atmosphere) for improvement of numerical (NWP) weather prediction models. To this end, the research performed by the Group employs a variety of state of the art scientific investigation techniques including: large scale field measurements (both in urban context and in the natural environment), numerical modelling and simulation, development of new satellite missions, novel interpretation of existing data sets.
The Group is also involved in the definition of innovative methods to extract the maximum information content from in-situ and remote sensing measurements of the atmosphere either from active or passive sensors, with the aim to improve the knowledge of clouds and precipitation physics.
Research is fully integrated in the national and international context, it is funded by national and international projects including Horizon2020, ESA-funded project etc. The group is active in numerous collaborations with several research institutions (local, national or international).
There are 4 main areas of research: dynamics of the atmosphere at multi-scale, microphysics of clouds and precipitation; remote sensing and radiative transfer of clouds; forward/inverse modelling for atmosphere remote sensing.
People
keywords:
Physical oceanography, Coastal oceanogrpahy, Numerical modelling, Data analysis
keywords:
Micrometeorology, Air Pollution, Air Quality Policies, Weather Forecast, Atmospheric Mesoscale Modelling, Climatology,
Reanalysis Data, GeoData Science, Analytical Procedures
Read more
keywords:
Buondary layer in complex terrain, Urban boundary layer, Vegetation in Urban Environment, Urban Heat Island,
Atmospheric Turbulence, Mountain Meteorology
Read more
keywords:
precipitation, remote-sensing, microphysical processes, disdrometer, radar, Antarctica, snow quantification,
quantitative precipitation estimation, particle size distribution, DDA, T-Matrix, precipitation scavenging, atmospheric aerosol, air quality, low-cost sensors
Read more
keywords:
air pollution, dispersion modeling, receptor modeling, urban meteorology, source-receptor analysis, atmospheric
aerosol, PM10, PM2.5, PMx, source apportionment, air quality-climate interaction, environmental radioactivity
Read more
keywords:
Large-Eddy Simulation · Turbulence · Conjugate Heat Transfer
keywords:
Atmospheric radiative transfer, Far-infrared, Cloud Properties, Remote sensing
keywords:
Atmospheric dispersion models, Air Quality, Smart Cities, Big Data, Environmental Science
keywords:
Urban Meteorology, Boundary-layer processes over complex terrain, Atmospheric Dynamics, Computational fludidynamics,
Air quality modelling, Atmosphere-vegetation interaction, Nature-based solutions
Read more
keywords:
Atmospheric Boundary Layer, Field Experiments, Urban fluid mechanics, Complex terrain weather, Nature-based Solutions,
Urban Morphology.
Read more
keywords:
remote sensing, radiative transfer in multiple scattering environment, clouds and aerosols, cloud identification and
classification, retrievals
Read more
keywords:
Cloud properties, Radiative Transfer, Remote Sensing, Machine learning techniques
keywords:
atmospheric remote sensing, precipitation, microphysical processes in clouds
keywords:
Atmospheric physics, dynamic meteorology, numerical weather prediction, urban heat island
keywords:
Atmospheric composition, Remote sounding of the atmosphere, Inversion techniques, Radiative transfer, Spectroscopy of
the atmosphere
Read more
keywords:
Physics of Climate, Dynamics and Thermodynamics of the atmosphere, Climate predictions